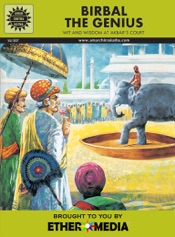 BIRBAL THE GENIUS
Tales of Birbal

A wise man speaks because he has something to say. A fool speaks because he has to say something. Birbal is as wise as it gets.

Birbal had proved himself to be the most reliable minister at court, time and again. He dispensed justice, dealt diplomatically with other rulers, led military expeditions and composed poetry.

In addition, Birbal also rescued Akbar the emperor from the dangers of arrogance and unfettered power. Most importantly, he made the Great Mughal laugh. 

The wit and wisdom of Birbal had endeared him not only to Akbar, but also to a vast majority of the subjects of the Mughal Empire. He had the rare distinction of achieving immense popularity during his lifetime, next only to that of Akbar.

He was a good administrator, a good soldier and perhaps what pleased Akbar the most - a good jester. His phenomenal success made many courtiers jealous and, if popular accounts are to be believed, they were forever plotting against him.