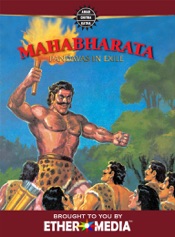 MAHABHARATA
Volume 2 - The Kuru Princes
Volume 2 of 3 - 14 Titles
Volume 1 described the training of the Pandavas and Kauravas, the Pandavas' escape from the burning house of shellac, their marriage to Draupadi and their subsequent return to Hastinapura.
In this volume are described the slaying of Jarasandha by Bheema, the subjugation of the other kings by the Pandavas and the Rajasooya Yajna performed by Yudhishthira. Later, in the game of dice, the Pandavas lose their kingdom and live in exile.
At the end of the period of exile, when the Pandavas come back to claim their kingdom, Duryodhana refuses to part with even five villages.